At What Age Should You Get an Adult Sized Bed?
Kids grow up so fast! They go from cot to cot bed in the blink of an eye, and before you know it, you're thinking about getting them an adult sized bed.
Adult sized beds have a full-size mattress, and when discussing children, what we usually mean is a single mattress measuring 90 x 190cm.
Generally, it would be best to introduce a single bed to children between the ages of five and eight, so the bed isn't too big for them.
Single beds are too big for small children because they are designed for adults. Additionally, young children need a side guard to stop falling out of bed.
Choosing a bed size based on age
While children grow at different rates, most have height milestones that fall in line with others before hitting puberty. Therefore, we can determine the correct bed size based on a child's age rather than their height.
Note that all the recommendations below are guidelines. Some children as young as five can have a standard bed if they feel comfortable. However, babies should always sleep in a cot or bed with suitable safety measures.
Babies aged 0-2
Babies need a cot. The mattress size for a cot is 1'9″ (60 cm, 21″) x 3'9″ (120 cm, 47″), although this can deviate by a cm between brands.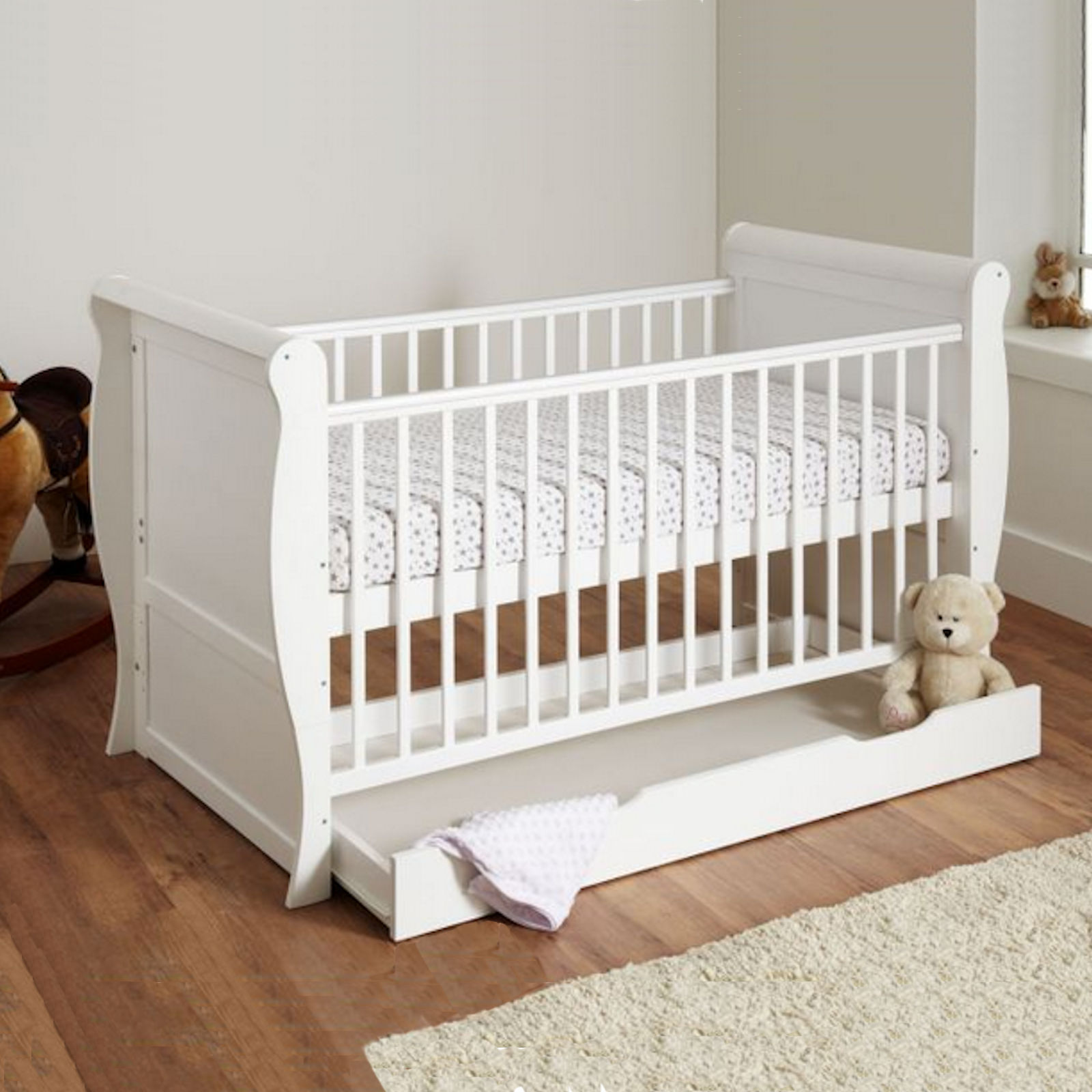 Note that cot beds are designed to convert into beds and have a cot bed mattress measuring 2'3″ (70 cm, 27″) x 4'6″ (140 cm, 55″). This is safe for a baby, but you should stop swaddling when the baby shows signs of rolling over.
Toddlers aged 2-4
Toddlers need a toddler bed/cot bed. The mattress measures 2'3″ (70 cm, 27″) x 4'6″ (140 cm, 55″) and gives toddlers room to grow.
Some cots are designed to convert into cot beds. Otherwise, you can get a standard toddler bed. Toddler beds need a guard for safety, and you also need to ensure that the mattress is the correct thickness so the guard does its job. Our article on transitioning a toddler from a cot to a bed is helpful if you are unsure.
Children aged 4-7
Between the ages of four and seven, children outgrow their toddler bed and need a small single bed (mattress size 2'6″ (76 cm, 30″) x 6'3″ (190 cm, 75″)). This bed is a great size for growing children wanting more space.
Alternatively, you can skip a small single and go straight to a single bed, but this will probably be too big for children under five.
Children aged 8+
Children over eight should have a single bed (mattress size 3'0″ (90 cm, 35″) x 6'3″ (190 cm, 75″). Single beds are spacious enough for children and teenagers, giving them all the room to grow and stretch out.
The only limitation with single beds is width – tall children and teenagers might want a broader bed to feel comfortable at night.
Teenagers aged 14+
Teenagers may want a small double bed (mattress size 4'0″ (120 cm, 47″) x 6'3″ (190 cm, 75″)). Small double beds are the same length as double beds but 6″ narrower, making them the best option for small bedrooms and growing kids.
Teenagers rarely need a double bed because small doubles are adequate, helping to preserve floor space in the bedroom for other stuff.
What age can kids go in bunk beds?
Children over the age of six can have bunk beds, providing that the bunk beds have a high bed guard. Mid sleepers (low bunk beds) are only recommended for children over the age of five so that they know to take care when in bed.
Mattress depth is doubly vital with bunk beds to ensure that the guard rail prevents your child from falling out; a mattress that is too thick makes it easier to fall out of bed. The best mattress depth in most cases is 15-20cm.
Related pages